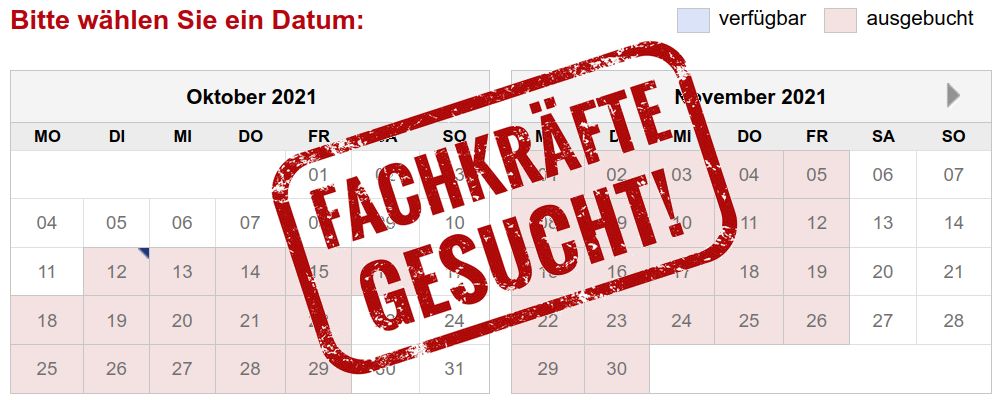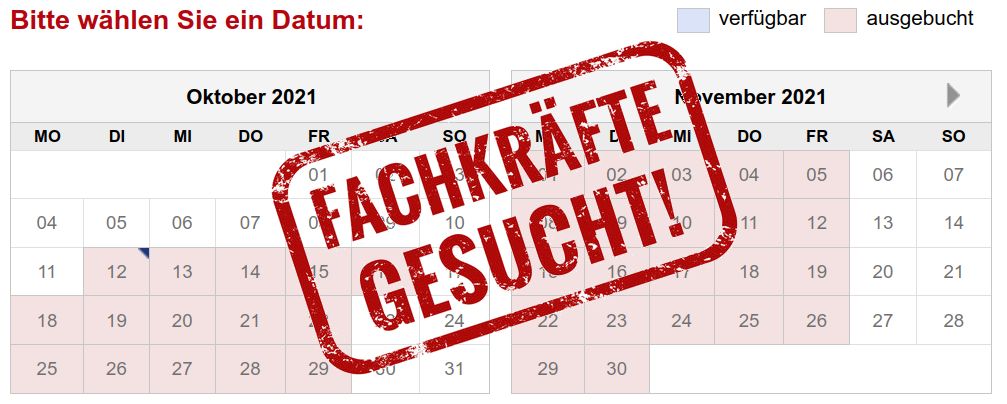 If you want to renew your passport in Berlin, you need patience and strong nerves. An online search on service.berlin.de for any appointment at any location has yielded exactly 0 hits for months. Is the main reason for such poor digitization incompetence at management level, or are there other causes? One could be:
Skilled labor shortages.
According to experts, this can be observed across all industries and will become even more acute when many baby boomers retire soon. They are taking their knowledge and experience with them into retirement, because there is often a shortage of young people to pass on their expertise to. Many of the tasks to be done are now considered unattractive. Those who are changing careers are increasingly looking for meaning in their work – and better pay.
A problem that is not limited to government agencies alone. Companies, too, can no longer adequately fill many of the positions they need with skilled workers. Two approaches – cleverly combined – should lead out of the misery. They are called "becoming more attractive as an employer" and "digitization". More demanding, better-paid jobs are being created for fewer and fewer people in the organizations. Computers and robots take over monotonous and repetitive tasks. That's the theory.
In reality, however, many projects that are supposed to bring the longed-for automation stumble in the initial phase. The reason here, too: A lack of skilled workers. After all, digital transformation is demanding and experienced IT personnel are particularly scarce. A vicious circle.
For organizations that do not have sufficient IT expertise of their own, outsourcing projects is often the only way to go. Along with the task, some believe they can delegate complete responsibility for the project's success. For this to really happen, however, it is primarily the commissioning party that is called upon. External IT service providers need competent counterparts in the organizations to ensure that they do not develop beyond the agreed budget. But here, too, the shortage of skilled workers is becoming apparent. There is often a lack of experience in dealing with digital transformation projects at both specialist and management level.
This gap can be closed with temporary experts. Teams like the econauten come on board as pilots to make organizations fit for digital transformation. The goal: Continuous know-how development in the ongoing project. Project participants from the organizations are empowered to manage even complex IT projects independently. In this way, organizations counteract the shortage of skilled workers on two levels. They create new, attractive tasks for motivated employees and use them to advance digitization.
Most of the people needed for this are already on site – including in Berlin's administration.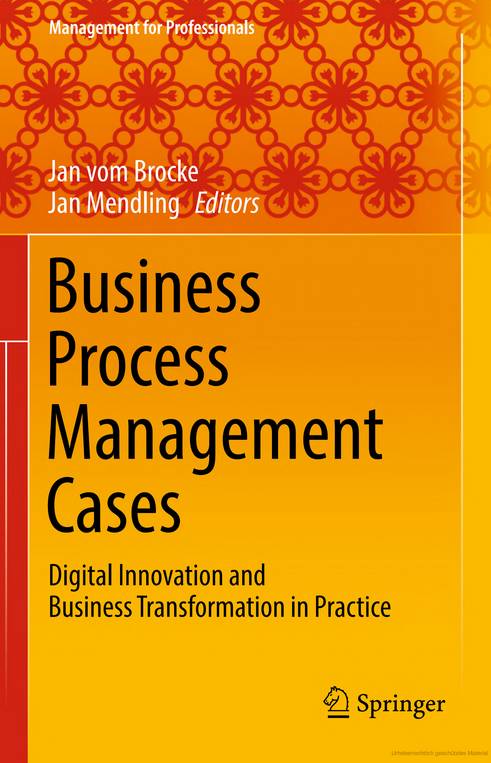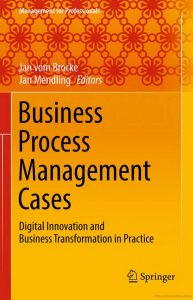 With the new Springer book "Business Process Management Cases – Digital Innovation and Business Transformation in Practice" the editors Prof. Dr. Jan vom Brocke and Prof. Dr. Jan Mendling are presenting the first comprehensive summary of real world BPM cases. We are proud to be part of it with "Managing Environmental Protection processes via BPM at Deutsche Bahn" being one of the 31 cases in this book.
More Details: http://www.bpm-cases.com
Overview
This Springer book is the first to present a rich selection of real-world cases on Business Process Management. It reports on best practice as well as lessons learned from organizations that have leveraged Business Process Management (BPM) to innovation and transform their business.
With economic and societal sectors of all kinds being challenged by disruptive changes due to digital technologies, in particular, this book shows how process thinking enables organizations to master digital innovation and transformation. The real-world cases presented in this book show how organizations leverage BPM capabilities both for exploitation and exploration in a digital world.
The book intends to bring together the experience of organizations using BPM. The focus in neither on academic case studies, nor on offerings from consulting companies. The intent is to learn from the experience organizations using BPM have made. That said, both academic institutions as well as consulting companies may well be involved in the case, but the case has to be developed from the perspective of the BPM-adopting company and the way BPM was used to solve contemporary organizational challenges.
The cases provide valuable examples for practice, as well as interesting cases for students. All case descriptions follow a unified schema making the case knowledge easy accessible for readers.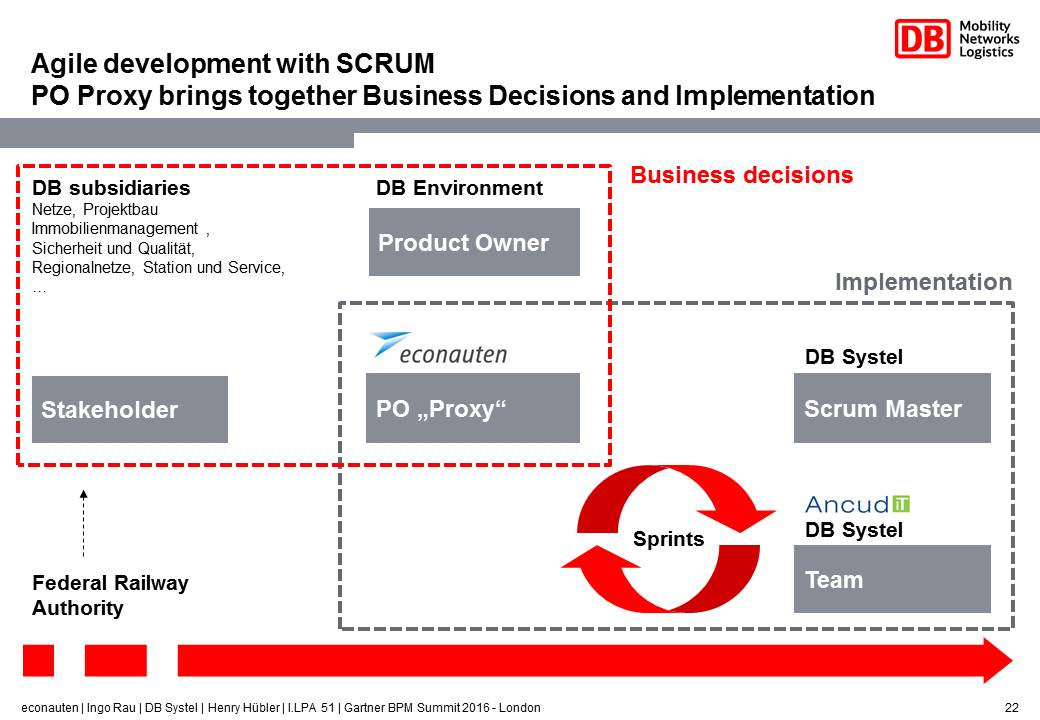 Redesigning processes for greater value – Reimaging work and business operations – Enabling business transformation through process management. These were the hot topics on this year's Gartner BPM Summit in London. Gartner senior analysts presented what should be on the agenda of  today's decision makers. IT influences more and more aspects of every business and is one of the key factors for further growth. Gartner demystified Digital Transformation and talked about future proof business models that incorporate the internet of things (IoT). Even more traditional organisations from the manufacturing sector are beginning to add digital services to their portfolio. In these new ecosystems on those will survive that have the capability to quickly test and scale new business models.
Ingo Rau – head of econauten and his colleague Henry Hübler from Deutsche Bahn were invited to speak at the Gartner BPM Summit 2016. They presented as //case study the new web based BPM system to manage compensation obligations at Deutsche Bahn. The audience appreciated first-hand information on how a BPM project can be implemented successfully. Critical amongst other factors is a strong Product Owner. In this case econauten worked as Product Owner Proxy – delivering userstories quicker and more precise to the development team. As a result, building the software went on smoothly with very little change requests. econauten would like to thank Gartner for the opportunity to present the project. It proves that BPM initiatives can be successful with the right team using the right methodology.
Talk to us if you are thinking of digital change in your organisation. Our experience with real BPM projects will get to started quicker. Phone +49 30 555 106 62 / E-Mail lotsen@econauten.de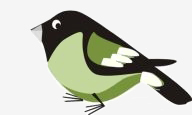 We are pleased to announce that Deutsche Bahn's web-based information system for nature conservation and compensation became operational at the end of February 2016. The econauten responsible for the requirements engineering and product owner Deutsche Bahn Environment are proud to have contributed to this IT system.
Read more about the project in our //case study.
Interventions in nature and landscape in the context of Deutsche Bahn infrastructure projects must be compensated for in a meaningful way. With the new IT system going live, these compensation measures are able to be managed effectively across the entire company. Furthermore, the state of these measures can be reported on digitally to the Federal Railway Authority (Eisenbahn-Bundesamt).
The web-based technical information system was successfully implemented within strict timeframes and to Deutsche Bahn's exacting standards, proving that it is possible to build a future-proof enterprise-capable IT system using agile methods and open-source components. 
We would like to thank the great team and all our partners:
DB Umwelt – Client
DB Systel – Project und Operations Manager
Ancud IT – Software developer
Camunda BPM – Developer Business Process Management System
If you want to learn more about digital transformation, BPM, DMN and requirements engineering in agile projects //, please contact us.